SHAH ALAM, 4 MAR 2021: THE public will soon be able to view selected data that is monitored and tracked at the Smart Selangor Operations Centre (SSOC), once the state government decides which data dashboard can be published for public viewing.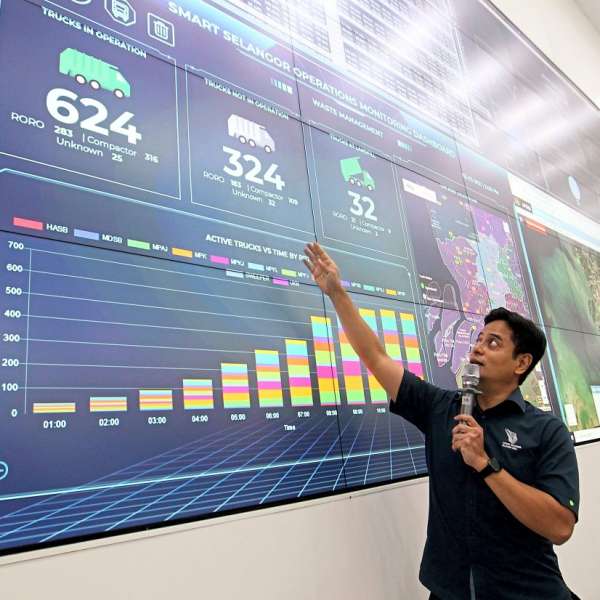 "Certain data such as tracking the Smart Selangor bus routes are already available publicly, " said Selangor Mentri Besar Datuk Seri Amirudin Shari during his visit to SSOC in Dewan Jubli Perak, Shah Alam.
"We are considering to include other types of data such as tracking garbage truck routes for waste management."
The SSOC cost RM6mil to build, using funding from the Selangor 2020 Budget.
It has been in operation for two months and is run by Smart Selangor Delivery Unit.
"Some of the other data dashboard monitored here are pothole analysis, disaster management, Smart Selangor parking, state Covid-19 data and SSIPR (Sistem Smart Inisiatif Peduli Rakyat), where it tracks registration details and allocation disbursement.
"At the moment, four local councils are also linked to SSOC, with the rest to be included later, " said Amirudin, naming the four as Kuala Selangor District Council, Hulu Selangor District Council, Kuala Langat District Council and Subang Jaya City Council.
He said SSOC, believed to be the first of its kind in Malaysia, was one of 60 Smart Selangor initiatives in line with the state government's efforts to make Selangor the premier smart state by 2025.
"SSOC was created to house a number of key agencies involved in day-to-day operations such as bus services, waste collection and security as well as quicker disaster management related to open burning, pollution and floods.
"SSOC is also able to provide feedback and the latest information on the state government's efforts to address the Covid-19 pandemic, through the Selangor Task Force Covid (STFC) which also operates here, " he added.
According to its website, the SSOC "is a state-of-the-art situational awareness, operational intelligence and analytical dashboard integrated system and the best-of-breed integrated solutions capable of consuming numerous varieties of machine data to service a broad range of use cases.
"The system displays data from the Smart Selangor initiatives in a structured visualisation on the dashboard for quick analysis and response."
It operates based on a C5i principle — command, control, communication, computer, collaboration and intelligence.
On Selangor's Covid-19 economic stimulus called Pakej Kita Selangor, Amirudin said 32% of the RM73.87mil allocated for its 20 initiatives had been spent as of March 1.
"RM24.73mil has been spent to benefit 108,545 Selangor residents thus far.
"Six initiatives are also fully completed, " he said, adding that Pakej Kita Selangor data was also monitored at SSOC.
The completed initiatives are food aid for hospital frontliners (RM1.6mil), flood aid (RM2mil), write-off for Selangor Foundation student loans (RM7.7mil), SSOC and Smart Selangor Centre of Excellence operations (RM7.5mil), postponement of three months' rent for Skim Smart Sewa participants (RM1mil) as well as rent exemption or deferment for PPR and council housing (RM1.7mil).
Amirudin was accompanied by state secretary Datuk Nor Azmie Diron and six state executive councillors during his visit.
Join our Telegram channel to get our Evening Alerts and breaking news highlights.
Sumber : Selangor Kini